Along with plastic and steel edging, Tameling Industries now carries aluminum edging.  Not only can it be used for landscaping beds, but also for paver applications as well.  A couple of advantages over steel edging is that aluminum edging won't rust and is more user friendly. Scroll down below for descriptions and specs.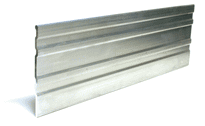 CleanLine is a commercial grade aluminum landscape edging for landscaping beds.  CleanLine is designed to sustain the demands of professional lawn maintenance and high volume pedestrian traffic. Exceptional flexibility allows graceful curves and angles to be readily formed.  Available in 8 foot and 16 ft lengths and in mill finish and black finish that will not rust.

sizes: 1/8″x4″x8′ and 1/8″x4″x816′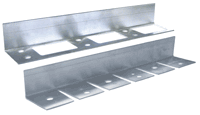 BrickBlock is an aluminum paving restraint system that is designed as a permanent, reversible edging. BrickBlock has two base options, each allowing one part to be used for both straight and for curve applications. BrickBlock's low profile promotes healthy turf growth, and allows for irrigation heads to be placed along the paver's edge.  Available in 8 foot lengths and in mill finish.