With every paver project, it is highly recommended that sand be put in between the joints.  What type of sand can you use?  You can use regular play sand or the technical term fine or mason sand.  However, fine sand will wash out, doesn't prevent paver movement or prevent weeds or insect infestation.
You can use jointing sand.  Jointing sand is kiln dried  and angular for easy flow and stay in place.
The number one choice is polymeric sand.  Polymeric sand contains polymers that activate when wet and become hardened.  You will have a stronger sand between the paver joints.  The benefits of polymeric sand prevents washout, minimizes paver movement, inhibits weed growth between the pavers and insect infestation.
We carry Alliance Haze Free Supersand Bond, Alliance Supersand G2, SEK Polysweep and Techniseal HP Next Gel Polymeric Sand.  Click on the links below for colors, instructions and videos.  Refer to page 13 in the catalog for pricing.
www.alliancegator.com/products/polymeric-sand-and-dust/
https://www.techniseal.com/en-US/professional/products/polymeric-sand/hp-nextgel-jointing-sand
Can I use polymeric sand on any paver?  No.  Certain cast stone products will cause a haze with the polymeric sand and we carry a product called SEK polysweep.  Polysweep sand is a designed for pavers, cast stone pavers, slabs, and flagstones with joints up to a 3/4″ gap.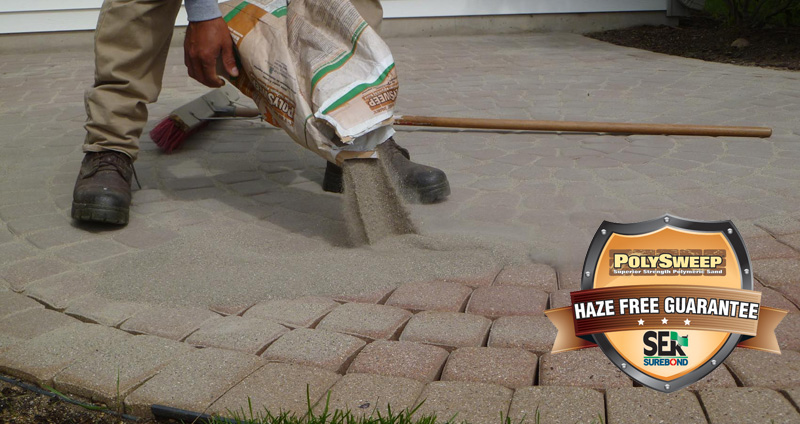 sek.us.com/products/polysweep-polymeric-sand/
Can I use polymeric sand for my flagstone patio or walkway?  No.  Because the joints between flagstones is usually bigger than gaps between pavers, we recommend Gator Dust.  Gator Dust is different than polymeic sand is that it is mixture of polymer binders and calibrated crushed stone. It is ideal for gaps that range between 1/2 inches to 4 inches.
www.alliancegator.com/products/polymeric-sand-and-dust/gator-dust/